James Bond Box Set (23 Titles)(DVD)
---
eB13 990
Discovery Miles 13 990
On Credit: R / month i
Shipped in 5 to 7 working days
Eligible for Cash on Delivery. Learn more
Free delivery available |
Hassle-Free Exchanges & Returns for 30 Days. Learn more
1. Dr. No (1962)
James Bond (007) is Britain's top agent and is on an exciting mission, to solve the mysterious murder of a fellow agent. The task sends him to Jamacia, where he joins forces with Quarrel and a loyal CIA agent, Felix Leiter. While dodging tarantulas, "fire breathing dragons" and a trio of assassins, known as the three blind mice. Bond meets up with the beautiful Honey Ryder and goes face to face with the evil Dr. No.
2. From Russia With Love (1963)
James Bond 007 is on the search for a Russian decoding machine, known as Lektor. Bond needs to find this machine, before the evil SPECTRE organization discovers it first. Whilst being romantically linked with Russian girl, Tatiana Romanova, Bond sneaks his way around Istanbul, whilst each SPECTRE agent tries to pick him off, including the over powering Donald 'Red' Grant and ex-KGB agent Rosa Klebb who knows all the tricks in the books and even possesses an incredible poison tipped shoe!
3. Goldfinger (1964)
Bond is back and his next mission takes him to Fort Knox, where Auric Goldfinger and his henchman are planning to raid Fort Knox and obliterate the world economy. To save the world once again, Bond will need to become friends with Goldfinger, dodge killer hats and avoid Goldfinger's personal pilot, the sexy Pussy Galore. She might not have feelings for Bond, but will 007 help her change her mind?
4. Thunderball (1965)
James Bond continues on his fourth mission, with his aim to recover two stolen warheads. They have been taken by the evil SPECTRE organisation. The world is held hostage and Bond heads to Nassau. Here, he meets the beautiful Domino and is forced into a thrilling confrontation with SPECTRE agent Emilio Largo, on board his boat, the Disco Volante.
5. You Only Live Twice (1967)
When an American space capsule is swallowed up by what they believe to be a Russian spaceship, World War 3 nearly breaks out. The British Government, however, suspect that other powers are at work as the space craft went down near Japan. S.P.E.C.T.R.E. is the force behind the theft, as James Bond discovers, but its motives are far from clear, and he must first find out where the captured space capsule is held before America and Russia initiate another world war.
6. On Her Majesty's Secret Service (1969)
George Lazenby steps into the role of James Bond and is sent on his first mission. For help with Draco, he must becomes very close friends with her daughter, Tracy, and heads off to hunt down Ernst Stavro Blofeld one more time. This takes him to Switzerland, where he must pose as Sir Hilary Bray to find out the secret plan of Blofeld. The facility is covered with Blofeld's guards and well as his hench-woman, Irma Bunt. What has Blofeld got in mind this time? Bond keep up this act for much longer? and are ALL Bond girls safe?

7. Diamonds Are Forever (1971)
James Bond's mission is to find out who has been smuggling diamonds, which are not re-appearing. He adopts another identity in the form of Peter Franks. He joins up with Tiffany Case, and acts as if he is smuggling the diamonds, but everyone is hungry for these diamonds. He also has to avoid Mr. Wint and Mr. Kidd, the dangerous couple who does not leave anyone in their way. Ernst Stavro Blofeld isn't out of the question. He may have changed his looks, but is he linked with the heist? And if he is, can Bond finally defeat his ultimate enemy.

8. Live and Let Die (1973)
Several British agents have been murdered and James Bond is sent to New Orleans, to investigate these mysterious deaths. Mr. Big comes to his knowledge, who is self-producing heroin. Along his journeys he meets Tee Hee who has a claw for a hand, Baron Samedi the voodoo master and Solitaire and her tarot cards. Bond must travel deep inside New Orleans, through marshy grass and on water as he completes his mission.

9. The Man with the Golden Gun (1974)
Scaramanga is a hit-man who charges a million dollars per job. He becomes linked to the death of a scientist working on a powerful solar cell, and James Bond is called in to investigate. As he tracks down Scaramanga, he realises that he is highly respected by the killer, but will this prove to be an advantage in the final showdown?

10. The Spy Who Loved Me (1977)
James Bond is back again and his new mission is to find out how a Royal Navy Polaris submarine holding sixteen nuclear warheads simply disappears whilst on patrol. Bond joins Major Anya Amasova and takes on a a web-handed mastermind, known as Karl Stromberg, as well as his henchman Jaws, who has a mouthful of metal teeth. Bond must track down the location of the missing submarine before the warheads are fired.

11. Moonraker (1979)
James Bond is back for another mission and this time, he is blasting off into space. A spaceship traveling through space is mysteriously hi-jacked and Bond must work quickly to find out who was behind it all. He starts with the rockets creators, Drax Industries and the man behind the organisation, Hugo Drax. On his journey he ends up meeting Dr. Holly Goodhead and encounters the metal-toothed Jaws once again.
12. For Your Eyes Only (1981)
After disposing of a familiar looking face, Bond is sent to recover a communication device, known as an ATAC, which went down with a British Spy ship as it sunk. Bond must hurry though, as the Russians are also out for this device. On his travels, he also meets Melina Havelock, whose parents were brutally murdered. Bond also encounters both Aristotle Kristatos and Milos Colombo. Each of them are accusing the other of having links with with the Russian's. Bond must team up with Melina, solve who the true ally is and find the ATAC before it's too late.

13. Octopussy (1983)
James Bond's next mission sends him to the circus. A British agent was murdered and found holding onto a priceless Faberge egg. Kamal Kahn buys the egg at an auction, but Bond becomes suspicious when Kahn meets up with Russian General, Orlov. Bond soon finds out that Kahn's and Orlov's plan is to blow a nuclear device in an American Air Force Base. Bond teams up with a circus group, which are headed by the beautiful Octopussy, who is also close friend of Kahn. Will Bond be quick enough, before World War III begins?
14. A View to a Kill (1985)
James Bond has one more mission. Bond returns from his travels in the USSR with a computer chip. This chip is capable of withstanding a nuclear electromagnetic pulse that would otherwise destroy a normal chip. The chip was created by Zorin Industries, and Bond heads off to investigate its owner, Max Zorin. Zorin may only seem like a innocent guilty man, but is really planning to set off an earthquake in San Andreas which will wipe out all of Silicon Valley. As well as Zorin, Bond must also tackle May Day and equally menacing companion of Zorin, whilst dragging Stacy Sutton along for the ride.
15. The Living Daylights (1987)
James Bond 007's mission is to firstly, organise the defection of a top Soviet general. When the general is re-captured, Bond heads off to find why an ally of General Koskov was sent to murder him. Bond's mission continues to take him to Afghanistan, where he must confront an arms dealer known as Brad Whitaker. Everything eventually reveals its self to Bond.
16. Licence to Kill (1989)

James Bond is on possibly his most brutal mission yet. Bond's good friend, Felix Leiter, is left near death, by drug baron Franz Sanchez. Bond sets off on the hunt for Sanchez, but not everyone is happy. MI6 does not feel Sanchez is their problem and strips Bond of his license to kill making Bond more dangerous than ever. Bond gains the aid of one of Leiter's friends, known as Pam Bouvier and sneaks his way into the drug factories, which Sanchez owns. Will Bond be able to keep his identity secret, or will Sanchez see Bond's true intentions?
17. GoldenEye (1995)

When a deadly satellite weapon system falls into the wrong hands, only Agent 007 can save the world from certain disaster. Armed with his license to kill, Bond races to Russia in search of the stolen access codes for "Goldeneye," an awesome space weapon that can fire a devastating electromagnetic pulse toward Earth. But 007 is up against an enemy who anticipates his every move: a mastermind motivated by years of simmering hatred. Bond also squares off against Xenia Onatopp, an assassin who uses pleasure as her ultimate weapon.

18. Tomorrow Never Dies (1997)
Agent James Bond 007 is on a mission which includes a media tycoon, his former lover and a Chinese agent. Elliot Carver wants to complete his global media empire, but in order for this to work, he must achieve broadcasting rights in China. Carver wants to start up World War III by starting a confrontation over British and Chinese waters. Bond gains the help of Wai Lin on his quest to stop him, but how will Bond feel when he meets up with his former lover, who is now Carver's wife.
19. The World Is Not Enough (1999)
James Bond is back. An oil tycoon is murdered in MI6 and Bond is sent to protect his daughter. Renard, who has a bullet lodged in his brain from a previous agent, is secretly planning the destruction of a pipeline. Bond gains a hand from a research scientist, Dr. Christmas Jones who witnesses the action which happens when Bond meets up with Renard, but Bond becomes suspicious about Elektra King, especially when Bond's boss, M goes missing. Bond must work quickly to prevent Renard from destroying Europe.
20. Die Another Day (2002)
Pierce Brosnan gives one last mission as James Bond. Starting off in North Korea, Bond is betrayed and captured. 14 months later, Bond is set free, but traded for Zao who was captured by MI6. When back in his world, Bond sets off to track down Zao. Bond gets caught up in yet another scheme which sends him to millionaire Gustav Graves. Another MI6 agent known as Miranda Frost is also posing as a friend of Graves. Bond is invited to a presentation held by Graves about a satellite found in space which can project a huge laser beam. Bond must stop this madman with a fellow American agent, known as Jinx. Whilst Bond tries to stop Graves and Zao, will he finally reveal who betrayed him?
21. Casino Royale (2006)
James Bond goes on his first ever mission as a 00. Le Chiffre is a banker to the world's terrorists. He is participating in a poker game at Montenegro, where he must win back his money, in order to stay safe among the terrorist market. The boss of MI6, known simply as M sends Bond, along with Vesper Lynd to attend this game and prevent Le Chiffre from winning. Bond, using help from Felix Leiter, Mathis and having Vesper pose as his wife, enters the most important poker game in his already dangerous career. But if Bond defeats Le Chiffre, will he and Vesper Lynd remain safe?

22. Quantum of Solace (2008)
Is there solace in revenge? Bond and "M" sniff a shadowy international network of power and corruption reaping billions. As Bond pursues the agents of an assassination attempt on "M," all roads lead to Dominic Greene, a world-renowned developer of green technology. Greene, a nasty piece of work, is intent on securing a barren area of Bolivia in exchange for assisting a strongman stage a coup there. The CIA looks the other way, and only Bond, with help from a retired spy and from a mysterious beauty, stands in Greene's way. "M" wonders if she can trust Bond, or if vengeance possesses him. Beyond that, can anyone drawn to Bond live to tell the tale?

23. Skyfall (2012)
When Bond's latest assignment goes gravely wrong and agents around the world are exposed, MI6 is attacked forcing M to relocate the agency. These events cause her authority and position to be challenged by Gareth Mallory (Ralph Fiennes), the new Chairman of the Intelligence and Security Committee. With MI6 now compromised from both inside and out, M is left with one ally she can trust: Bond. 007 takes to the shadows - aided only by field agent, Eve (Naomie Harris) - following a trail to the mysterious Silva (Javier Bardem), whose lethal and hidden motives have yet to reveal
Bundle deals expire when stock runs out. T&Cs apply
Truwayne, South Africa. 7 November 2014
Good Quality DVD's. Not a fan of the Cheap Cardboard box and packaging though!
Region details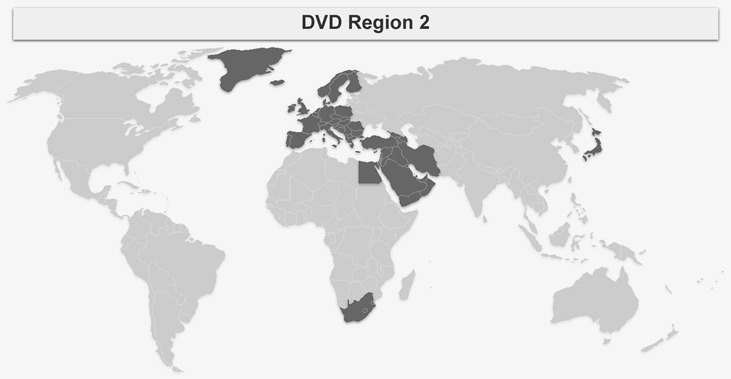 Region 2 - Europe (except Russia, Ukraine, and Belarus), Middle East, Egypt, Japan, South Africa, Swaziland, Lesotho, Greenland, French Overseas departments and territories.