---
eB2 080
Discovery Miles 2 080
Shipped in 12 to 14 working days
Hassle-Free Exchanges & Returns for 30 Days. Learn more
Dark, vibrant and twisted revenge thriller by Korean director Chan-Wook Park. Oh Dae-Su (Choi Min-Sik) has never taken his role as husband and father seriously and has just been released from police custody for drunk and disorderly behaviour on his own baby daughter's birthday. When he finds himself in solitary confinement in a prison cell after being mysteriously abducted on the street, he has no idea what is going on or why. A year into his imprisonment, he learns from the small television in his cell that his wife is dead, and that he himself is suspected of the crime. When, fifteen years later, he is released as suddenly and inexplicably as he was detained, he is determined to track down his tormentors and wreak his revenge. But little does he know that his kidnappers have even worse horrors in store for him...
Bundle deals expire when stock runs out. T&Cs apply
Sean, DURBAN. 17 May 2006
OLDBOY: 2-DISC COLLECTOR'S EDITION


Film and Dvd Specs

Discs: 2
Region: 0 (2)
Screen Format: 2.35:1 Anamorphic
Soundtrack(s): DTS –ES 6.1; Dolby Digital 5.1 EX; Dolby Digital 2.0 [Korean]
Subtitles: English
Dvd Distributor: Tartan Asia Extreme
Film Released: 2003
Film Country: Korea
Running Time: 115 Min.
Rated: 18

Director: Park Chan-Wook
Cast: Choi Min-Sik; Yoo Ji-Tae; Kang Hye-Jeong

PREMISE:

One day in 1988, ordinary white collar worker Oh Dae-soo (Choi Min-sik) is kidnapped and incarcerated in a private makeshift prison cell, dressed up like a cheap hotel room. With only a TV for company, Dae-soo makes numerous attempts to escape and to commit suicide but they all end up in failure. All the while Dae-soo asks himself what made a man hate him so much enough to imprison him in solitary confinement with no explanation. While suffering from his near-madness, Dae-soo becomes shocked when he watches the news and hears that his beloved wife was brutally murdered. At this very moment, Dae-soo swears to take revenge on the man who destroyed his happy life. 15 years on and without a word of warning Dae-soo is released. Given a new set of clothes, a mobile phone and the attentions of curious sushi waitress Mido, Dae-soo begins to track down his enemy, only to find he may be the pawn in a much bigger game which is only just beginning. Taunting Dae-soo, the culprit gives him just 5 days to catch and kill his captor or Mido will die...
Based on Japanese manga of the same name by Minegishi Nobuaki and Tsuchiya Garon, winner of the Jury Grand Prize at the 2004 Cannes Film Festival and winner of 5 Grand Bell awards in Korea (including Best Film for Park Chan-wook and Best Actor for Choi Min-sik), 'Old Boy' is a masterfully inventive revenge thriller complete with blackly comedic moments.

PICTURE

The image on this disc is excellent. The director used various colour filters (mostly green) whilst filming the movie and it really looks spectacular. The digital enhancements made to make the film look crisper are exceptionally executed. I could barely find any fault with the picture. Wide shots look amazing and the close-up's of the actors is well shot and transferred onto the disc.

AUDIO

One can't complain about the selections with regards to audio on this disc. My only question being why so many? Well anyway you get the DTS ES 6.1 track which most will go for if you have the correct amp for it. This is the track I listened to and it's perfect. The music does sometimes seem a bit louder than the dialogue but it didn't take anything away from the experience. As for the music…what a great soundtrack! It really was very well composed/made, the highlight for me being a scene that fast forwards the years going past whilst the poor guy is still imprisoned. The music playing there is just genius and gave me goose bumps whilst watching the images on screen. Excellent stuff! The surrounds are mostly always in use, even when there's no action onscreen. Whether it be a car driving past or a phone ringing, it's used to maximum.
The other tracks are the Dolby Digital 5.1 EX and Dolby Digital 2.0. I'll try out the EX on another viewing which will be pretty soon, just to check out what the difference is.

EXTRAS

Director Commentary
This commentary is in Korean with English subtitles. I have yet to listen (or rather read) to this one.

Director & Cinematographer Commentary
Not yet checked out

Director and Cast Commentary
Not yet checked out

Behind the Scenes (78:47)
Jam packed behind the scenes features that are broken up into sections consisting off: Flashback, the Cast Remembers, Production Design, CGI Feature, the Music Score and Le Grand Prix at Cannes. Clocking in at almost one and a half hours you are gonna learn a lot about the making of the film, how it all came about, auditions, the violence in the film, the infamous octopus scene (he had to eat 4 live once before they got the shot), actor's falling asleep during filming and on set because of the shooting schedule, the reception and applause the guys received at Cannes and much more.

Interviews (60:50)
Almost every actor and actress together with crew members are interviewed here. Fans get to ask them questions which are mostly very interesting if you can sit through all the reading, but I found it to be highly entertaining and informative.

Deleted Scenes (10)
There are ten deleted and extended scenes here. Most of them are quite interesting actually with my favourites being the extended fight sequence in the tunnel and the extended police station scene. The rest are good as well. Commentary would have been interesting to find out why some of these scenes were cut.

Theatrical Trailer
The original theatrical trailer.

OVERALL

An amazing movie that might well be over-hyped by critics and praised so much by Mr Tarantino himself, but still manages to entertain, shock and be totally original. I loved this movie for what it is, a classic revenge drama with twists and turns that'll leave you confused, shocked and thinking: How the hell did that come about and why this, why that. Just watch it again and you'll probably find more answer each time or notice something different than your first viewing. Yes it's violent at times and yes he does eat a real live octopus (this guy is a Buddhist by the way) but one thing you can't deny, is that this movie will keep you thinking for days after watching it. The dvd itself is great which comes in a standard double disc amaray box and is truly, a Collector's edition.

MOVIE: 9
PICTURE: 9
AUDIO: 10
EXTRAS: 9

TOTAL: 9.3

Region details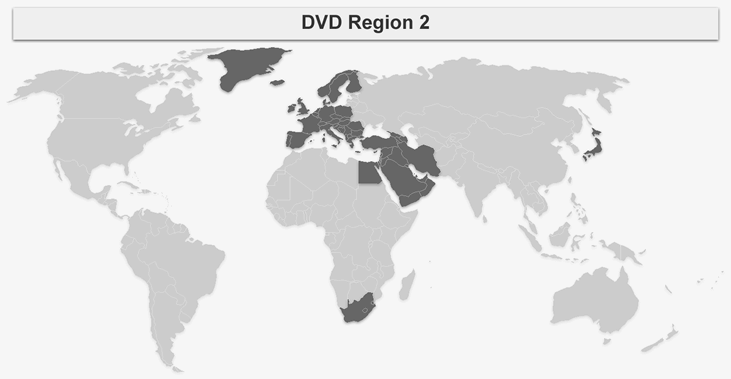 Region 2 - Europe (except Russia, Ukraine, and Belarus), Middle East, Egypt, Japan, South Africa, Swaziland, Lesotho, Greenland, French Overseas departments and territories.