Kershaw - 90mm Kudu Safari Knife - Black
Ideal as a dependable work knife
---
eB7 190
Discovery Miles 7 190
Supplier out of stock
Eligible for Cash on Delivery. Learn more
Free Delivery Available
Hassle-Free Exchanges & Returns for 30 Days. Learn more
Website

www.victorinox.com

Title

Kershaw - 90mm Kudu Safari Knife - Black

Country

South Africa

Brand

Barcode

087171314006

Colour

Black
Bundle deals expire when stock runs out. T&Cs apply
Folding Knives Buying Guide
A folding knife is an invaluable tool both at home or on the go, and can be used for a vast number of purposes - whether you're cutting a fishing line that's stuck in a tree, or hacking through weeds to get to that ideal location.
Today, knives come in all shapes and sizes, but are generally categorized between two broad types: fixed-blade knives and folding knives.
Folding knives (aka pocket knives) are safer and more practical for carrying around since the blade is hidden and the knife takes up less space. They're smaller, more compact and sometimes have more than one blade. Most folding knives are just the right size to fit into pockets or hang from belts. Folding knives are versatile, although they are more common as general-purpose tools for camping, hunting, and fishing.
Components
Knives consist of several intricate parts, but the most recognizable are the blade and the handle. The handle, used to grip and manipulate the blade safely, may include the tang, which is the portion of the blade that extends into the handle. The handle also includes a bolster, which is a piece of material, usually brass or other metal, and is used to balance the knife at the front of the handle where it meets the blade. A folding knife connects the blade to the handle through a pivot, allowing the blade to fold into the handle.
The blade itself has several key components, including the point, which is the end of the knife used for piercing, and the edge, which is the cutting surface of the knife extending from the point to the heel. Additional blade components include the grind, which is the cross-section shape of the blade; the spine, which is the thickest section of the blade; the fuller, which is the groove added to lighten the blade; and the ricasso, which is the flat section of the blade located at the junction of the blade and the bolster.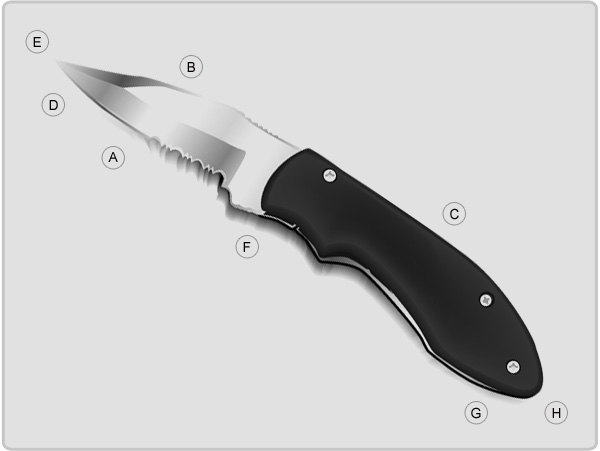 A:Edge

The sharpened part of the blade, from point to bolster (E to F). The edge can be straight, serrated, or a combination of the two.

B:Spine

The side opposite the sharpened edge.

C:Handle

The handle envelops the tang (H) and is usually fastened by rivets or encased in plastic or metal.

D:Tip

The third of a blade's tapered end, opposite the handle.

E:Point

The very tip of the knife, the point should be sharp and relatively thin. It is used for making incisions, cutting, and carving.

F:Bolster/Guard

The thick piece of metal between the handle and blade. Typically found on fixed blade knives, the Bolster/Guard serves several purposes, adding weight, providing balance, and creating a comfortable resting place in the hand.

G:Butt or pommel

The end of a knife is located at the end of the handle, opposite the tip.

H:Tang (not pictured)

The part of the blade that runs from the bolster back into the handle (a full tang runs the entire length of the handle, while a half-tang only runs a part way).
Picking the Right Folding Knife
To find the ideal knife, your main considerations should be the blade and handle material, as well as locking and opening mechanisms. Also, explore popular brands for their various styles and functionality.
Blade Material
Knife blades can be manufactured from a variety of materials, each with its advantages and disadvantages. Common materials include steel, titanium, and even ceramics. Let's take a look at them:
Steel

Steel blades are usually the least expensive of the four blades.Carbon steel can be very sharp, hold its edge well, and remain easy to sharpen, but it tends to rust and stain. On the other hand, stainless steel is highly resistant to corrosionbut unable to take quite as sharp an edge as carbon steel. High carbon stainless steel blades do not discolor or stain, and maintain a super sharp edge.

Laminate

Laminate bladescombining the attributes of multiple metalsto create a layered sandwich. For example, a harder but more brittle steel may be sandwiched between an outer layer of softer, tougher, stainless steel to reduce vulnerability to corrosion. Because laminate blades use multiple metals, they tend to cost more than steel blades, but less than the titanium ones.

Titanium

Of all the blades on the market, the titanium blades are the most expensive. This is due to titanium being more wear resistant, and more flexible than steel. Although softer and unable to take as sharp an edge, carbides in the titanium alloy allow them to be heat-treated to a sufficient hardness.

Ceramic

Ceramic blades are hard and lightweight, and with proper care will maintain a sharp edge for many years with no maintenance. However, they are as fragile as glass and will chip or break if dropped on a hard surface. In addition, ceramic blades cannot be sharpened or repaired, so once they start to chip or wear, they must simply be discarded. Ceramic blades are not as expensive as the titanium ones but do cost more than the steel blades.
Forged vs. Stock Removal
How a blade is shaped is perhaps just as important to the knife's quality as what it's made from.
Steel blades are commonly shaped by forging - whereby a single piece of steel is heated, then shaped using a hammer or press. Stock removal blades are shaped by grinding and removing metal. With both methods, the steel must be heat treated after shaping, which involves heating the steel above its critical point and then quenching the blade to harden it. After hardening, the blade is tempered to remove stresses and make the blade tougher. Forging tends to be reserved for more expensive product lines because a forged blade takes more time and effort to make. As they are usually hand crafted, they should last a lifetime.
Edge
The blade's edge can either be plain or serrated.
Plain-edge blades can be either flat-ground, which have a profile that tapers from the thick spine to the sharp edge in a straight line, or hollow-ground, which havebeveled edges.
Serrated blade knives have a wavy, scalloped or saw-like blade. These are more suited for tasks that require sawing motions, whereas plain-edge blades are better suited for tasks that require push-through cuts (e.g., shaving, chopping, slicing). Some folding knives have more than one blade that fold into the handle, and may feature a plain-edge blade and a serrated blade, or variations of both.
Knife Handle
The handles of folding knives can be made from a number of different materials, each with their advantages and disadvantages. Handles are produced in a wide variety of shapes and styles, and are often textured to enhance grip.
Wood

Wood handles provide good grip and are warm in the hand, but are often difficult to properly maintain. They will crack or warp with prolonged exposure to water. However, modern stabilized and laminated woods have largely overcome these problems.

Plastic

Plastic handles are easy to care for, but can be slippery and become brittle over time. Injection-molded handles are made from higher grade plastics, reinforced with Kevlar or fiberglass, and are marketed under trademarked names such as Zytel or Grivory.

Rubber

Rubber handles are generally preferred over plastic, due to their durability and cushioning nature. Leather handles are also sometimes seen on hunting and military knives.

Stainless Steel and Aluminum

Finally, stainless steel and aluminum handles are durable and sanitary, but can be slippery. To overcome this, premium knife makers make handles with ridges, bumps, or indentations to provide extra grip. Since metal is an excellent heat-conductor, these knives can be very uncomfortable, and even painful or dangerous, when handled without gloves.
Locking & Opening Mechanisms
Folding knives typically have a locking mechanism on them to prevent injury. Different locking mechanisms are favoured for reasons such as perceived strength, legality, and ease of use.
A slip joint is most commonly found on traditional pocket knives; the opened blade does not lock, but is held in place by a spring that allows the blade to fold if a certain amount of pressure is applied.
A spine lock includes a pivoted latch affixed to a spring, and can be disengaged only by pressing the latch down to release the blade.
A button lock, which is found mainly on automatic knives; this type of lock uses a small push-button to open and release the knife.
Another prominent feature on many folding knives is the opening mechanism.
Traditional pocket knives commonly employ the nail nick
Modern folding knives more often use a stud, hole, disk, or flipper located on the blade.
They all have the benefit of allowing the user to open the knife with one hand.
The wave feature is another prominent design, which uses a part of the blade that protrudes outward to catch on one's pocket as it is drawn, thus opening the blade.
Switchblade knives open using the stored energy from a spring that is released when the user presses a button or lever built into the handle of the knife. Switchblade knives are popular amongst law enforcement and military users for their ease of rapid deployment and their ability to be opened using only one hand. These knives are restricted by law in many places around the globe.
Tips For Maintaining Folding Knives
Always keep your knife sharp; it's safer and easier to use, and will cut more cleanly. A good sharpening system is needed and there are several different brands and types of sharpeners available to suit the blade in need of sharpening.
Don't use the knife blades as screwdrivers or to pry things open; they were not designed for that purpose and may break or result in injury. Remember to cut cleanly and evenly without twisting the blade to prevent it from breaking.
Keep (and store) the knife as dry as possible to avoid rust and corrosion. Apply light oilto the folding mechanism every now and then for lubrication and protection against rust.
Finally, keep the knife's folding/locking mechanism clean; be sure to remove accumulated dirt and grit by using a toothpick to reach into the nooks and crannies.