Miami Vice (2006) (DVD)
Starring Colin Farrell et al
---
eB530
Discovery Miles 530
Shipped in 5 to 7 working days
Eligible for Cash on Delivery. Learn more
Hassle-Free Exchanges & Returns for 30 Days. Learn more
Bundle deals expire when stock runs out. T&Cs apply
Sean, DURBAN. 26 January 2007
MIAMI VICE 6/10

THE MOVIE

The name Michael Mann brings back a lot of good memories. I remember I was blown away after watching Heat for the first time back in the day. Man hunter, Last of the Mohicans and Collateral were all unique in their own way. So when I read or hear the 'Mann' is busy filming a new movie, my ticket is bought, no matter what it's about.

One thing you can always count on in Mann's films is a visual feast for the eyes. It might not be so much the cinematography, but he's got a visual style which is unique to him, and him alone. You always get this raw gritty feeling when you watch his movies and no matter what the theme of the film, it certainly adds a more realistic viewing experience. I'm glad to report that with Miami Vice, the 'Mann' has done it again…in terms of visuals.

So what's really wrong with Miami Vice? Firstly let me point out that I have never seen the television series, not one episode, so my take of the film is solely on the movie itself. There is certain things I loved about Miami Vice and other things that just didn't gel and felt out of place. The plot sometimes messed with my head and I thought that certain scenes were really just dragging along and dare I say, even bored me at times. If your looking for your typical buddy cop action movie you'll be disappointed as this is not what it is.

The strong point of the movie is of course, as I've mentioned before, the look and feel of the film. It's realistically portrayed which might be the reason that there's such a lack of action set pieces in the film, but that shouldn't scare you off if you enjoy cop dramas. The boats, cars, houses, clubs etc. all look fantastic. I'd say that this s a great technical achievement. The action set piece at the end is done in true Michael Mann style and as always, look, sound and entertain all round.

This is certainly not a movie for everyone. I think most people will be disappointed after watching this, but true fans of the director will find something they like in this. I remember when I first saw the trailer for Miami Vice on cinema, really looking forward to it, but I realised that I was mislead to believe that this was going to be a full on action buddy cop film. surely that had some part to play in the recent mixed reviews from critics and fans all round.



THE CAST

Colin Farrell stood out in almost all the scenes he was in. The guy just has a knack to play these sorts of roles. Jamie Foxx looked confused at times and certainly didn't do anything special with his role in my opinion. It felt like he was part of the supporting cast most of the time. By far the most disappointing cast member here must go to Li Gong, the Asian lady who plays the lead love interest of Farrell's character. Was it just me or could one sometimes not hear what the hell kind of English was coming out of her mouth? It certainly took a while to get used to. No seriously, I didn't enjoy her character and her acting, she didn't pull this role off. The rest of the cast were all just there, even the main baddy, nothing really special invested in his performance.

VIOLENCE & GORE

There's violence here and it's quite realistically portrait, but nothing gratuitous. As with every other Michael Mann film you have bullets flying around hitting people in a very realistic fashion. Hand to hand combat scenes look very believable but there wasn't much.

T & A

The goods on display weren't much too look at for the guys. Yeah it's a bummer even more so because I believe there is an unrated edition somewhere out there containing longer and better scenes…if you know what I mean. Good news for the ladies though as you get to see Jamie Foxx's crack (Hooo-haaah) and a lot of Farrell…just Farrell. Allow me to be frank. The sex scenes were boring, really!

MUSIC/SCORE

In typical 'Mann' fashion you get one decent score that plays every now and then in the film. There are some nice songs in here that complement the movie very well, as with all of Mann's films. Like I said, you will find something you like in this film.

Final thoughts

At the end of the day I think this won't be a movie that'll be either good or bad as a decision. I think there will be elements that you'll enjoy, and some that you'll not like. But what's there might just make you enjoy it for the better part of the film. The dvd is pretty average and I'd definitely recommend waiting for the Special edition if you're a collector, whenever that'll be released. It's worth a rental to say the least but don't go into this one expecting too much.
Leon, MARAIS STEYN PARK. 24 January 2007
As previous reviewers wrote, wait for the dir cut. But unfortuanately there won't be a R2 dir cut you will have to order the R1 cut. The directors cut is far superior to the normal theatrical cut, with an added commentary track by Michael Mann. The dir cut flows alot better than the theat cut, and there is a bonus for fans of the series towards the end, reminicent of the pilot episode of the series.
Gershon Ebenezer, Cresta. 24 January 2007
I would suggest waiting for the UNRATED Directors Cut to reach us in region 2, PAL format. There is a lot more added like a new opening scene that explains the whole club scene. There is also added scenes that add more dept to the Tubbs romance story. There is also a cool car spin towards the end. Its an awesome movie but I suggest waiting for the UNRATED Directors Cut.
Region details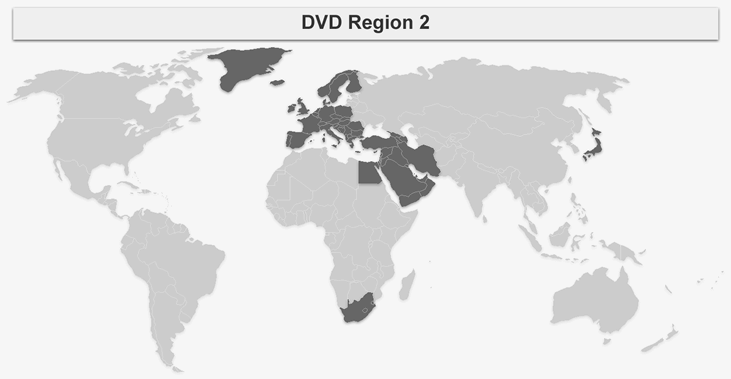 Region 2 - Europe (except Russia, Ukraine, and Belarus), Middle East, Egypt, Japan, South Africa, Swaziland, Lesotho, Greenland, French Overseas departments and territories.