Minority Report (DVD)
Starring Colin Farrell et al
---
eB470
Discovery Miles 470
Shipped in 5 to 7 working days
When do I get it?
Our picking, packing and delivery is linked to what you order, where you want it delivered and how you choose to pay, so delivery times can vary.
Estimates are provided below to help you shop, but always check your order's Estimated Delivery Date during checkout for the most accurate delivery information.
Standard Delivery
| | |
| --- | --- |
| Cape Town, Joburg, Pretoria | 2-5 working days |
| Regional Area | 2-6 working days |
| Remote Area | 3-7 working days |
Premium Delivery
Options

Only available in Main
Centres (Cape Town,
Joburg & Pretoria)
| | | |
| --- | --- | --- |
| Same Day Delivery | Same Day between 3pm - 7pm | Pay before 11am weekdays |
| Express Delivery | Next Working Day between 7am - 7pm | Pay before 12pm previous day |
| Saturday Delivery | Saturday between 11am - 7pm | Pay before 12pm Friday |
| Sunday Delivery | Sunday between 11am - 7pm | Pay before 12pm Saturday |
Collections

Currently only available
at our Cape Town
warehouse.
| | |
| --- | --- |
| Cape Town warehouse | 1-4 working days |
Collection times vary, please wait for your Ready to Collect email before visiting the warehouse.
When do I get it?
Our picking, packing and delivery is linked to what you order, where you want it delivered and how you choose to pay, so delivery times can vary.
Estimates are provided below to help you shop, but always check your order's Estimated Delivery Date during checkout for the most accurate delivery information.
Standard Delivery
| | | | |
| --- | --- | --- | --- |
| Shipped in 3-5 working days | 1-2 weeks | 1-2 weeks | 2-3 weeks |
| Shipped in 5-7 working days | 1-2 weeks | 2-3 weeks | 2-3 weeks |
| Shipped in 7-10 working days | 2-3 weekss | 2-4 weeks | 2-4 weeks |
| Shipped in 10-15 working days | 3-4 weeks | 3-4 weeks | 3-4 weeks |
| Shipped in 15-20 working days | 3-5 weeks | 3-5 weeks | 3-5 weeks |
Collections

Currently only available
at our Cape Town
warehouse.
| | |
| --- | --- |
| Shipped in 3-5 working days | 1-2 weeks |
| Shipped in 5-7 working days | 1-2 weeks |
| Shipped in 7-10 working days | 2-3 weeks |
| Shipped in 10-15 working days | 3-4 weeks |
| Shipped in 15-20 working days | 3-5 weeks |
*Shipping time indicates how long it takes a product to reach our warehouse from our supplier.
**Delivery estimates include shipping times.
Eligible for Cash on Delivery. Learn more
Hassle-Free Exchanges & Returns for 30 Days. Learn more
6 Month Limited Warranty. Learn more
Bundle deals expire when stock runs out. T&Cs apply
Neil

, Goodwood. 20 January 2003
Pre Review starts:

In keeping with the spirit of Minority Report, I'll be doing the intro part of the review before watching the actual movie. Call me a Dickhead if you want to, and I'll be proud to accept the term. Of course you will know Dickheads are what fans of the late sci-fi scribbler Phillip K. Dick are called. Hollywood have produced a number of movies based on his short story and novels. These include my all time favourite movie, Bladerunner (1981), a trend setting movie whose influence still resonates today with its exceptional visual style. Other Phillip K. Dick movies include Arnold Schwarzenegger's identity crisis in Total Recall (1990), Screamers (1995) and the more recent tale of future xenophobia, Imposter (2002).

And now we have two of the most successful people in Hollywood, master director Steven Spielberg teamed up with the ever experimental Tom Cruise to bring us Minority Report, based on a short story of the same name by Phillip K. Dick.

End Pre Review

So the question you could ask, is Minority Report Steven Spielberg's best movie to date? Well probably not as both Schindler's List and Saving Private Ryan are both outstanding works from one of the most accomplished movie directors there is. Minority Report is without a doubt the best sci-fi movie of the past few years, of that I have no doubt. I think last years A.I., the fatally flawed piece of work where the combination of Kubrickean stark future vision and Spielberg's sentimentally streak just did not gel properly. Granted there were some amazing sequences in A.I and the clinicalness of the opening first act was probably the best part of the movie. But overall A.I. was a major disappointment and did not live up to the high standards people expected from it. In any event I believe Steven Spielberg's experience with working on A.I. has paid off handsomely for the lovers of intelligent sci-fi movies with the release now of Minority Report.

What makes Minority Report work, is the lack sappiness we normally see in Spielberg's movies. Although the movies ending may be a bit too perfect especially for a work based on Phillip K. Dick literature. As widely reported the filmmakers spend a couple of days with futurist asking them to come up with things that will be possible a scant fifty years from now. These futurist ideas have been seamlessly implemented into Minority Report, making the movie almost seem like a glimpse of the future where the things shown on screen seem very possible. Things like the constant scanning of people's retinas wherever they go, so that customized advertising will follow them everywhere. Those of us who use the Internet a lot already know our movements are being tracked and cookies stored in anonymous servers, "to better serve us" as we surf the web in the form of customized web advertising and products displayed to us when we want to shop online. Somewhere huge databases are being built up of every electronic transaction we have ever done. Personal privacy is becoming more and more eroded everyday, so one can only imagine how bad things will be fifty years from now!

In Minority Report Detective John Anderton (Tom Cruise) in charge of the Precrime division in Washington D.C. Precrime is based around the concept of stopping murders before the occur and then prosecuting the offending "future" murderer as though they have committed the crime. The moral dilemma obviously is, whether someone can be guilty of murder if they never actually concluded the crime. The future murders are seen by three pre-cognitives whose visions are recorded and then projected into the Precrime computers. Minority Report opens where the pre-cogs have just seen a future murder occur. Detective John Anderton has to race against time to try and stop the murder, as he takes the fragmented mental pictures from the pre-cogs and using an elaborate GUI based on hand gestures, searches the visual images for clues for the location of where the murder is about to occur.

Precrime is about to go national after its six years of trails in the Washington D.C district, and to do the final check of the whole system an ambitious young Detective Danny Witwer (Colin Farrell) is sent. Of course it is not long before things start to go horribly wrong and Detective John Anderton after being accused of a murder he still has to commit of someone he has never even heard off, decides to run. I won't get into further plot details, suffice to say the movie is an absolute pleasure for all sci-fi and Phillip K. Dick fans.

As I have mentioned, the depiction of the future looks very possible, and the movie is filled with amazing visual effects has you would only expect from Steven Spielberg. I was fortunate to view the movie at the Grandwest Cinema Starz, and had a great cinematic experience as they showed the movie in widescreen format and their surround sound system worked superbly during the screening.

Those expecting Minority Report to be action movie, may be somewhat disappointed. Instead expect to see a well-acted movie, with great visuals, excellent story and something to make you think about long afterwards. I mentioned Kubrick earlier on. People who see the movie will know what I mean, with the whole eye operation sequence, a salute to A Clockwork Orange if there ever was one. Minority Report is also filled with little humorous moments to help liven the mood a bit. Also what is great about the movie is when you expect it to go one-way, the movie does an unexpected turn and moves in a completely new direction. Although I have said moviegoers shouldn't go watch Minority Report thinking of it as being an action movie, there are a series of action set pieces that are incredibly well done. The cops with their rocket jetpacks come to mind, and when the little robot spiders are sent into the housing complex, and not forgetting the whole escape from the computerised vehicle while it is still moving on the magnetic freeway. The freeway section has a very much look and feel of a platform game.

After seeing Minority Report I almost could not wait to go see it again as soon as possible, and for me nowadays is as high praise as what I can give a movie. Highly recommended.
Nathan

, Noordheuwel. 24 December 2002
I rented it today, and boy was I amazed by the menu. It looks like the computer they use when 'searching' the pre-visons. To be honest, the first time I saw this, it didn't live up to the hype, me expecting "a matrix", but this is a very good movie, and I would recomend it to Spielberg and SciFi fans. The story is really good, and the future seems realistic (with lexus and Nokia helping).

I would buy this DVD, but the LOTR CE set my budget back a bit, but maybe I'll get it for christmas.
Steve

, . 26 March 2003
MINORITY REPORT
A film review by Steve Rhodes
Copyright 2002 Steve Rhodes
RATING (0 TO ****): ****

In Steven Spielberg's science fiction thriller, MINORITY REPORT, one of his very best films, Detective John Anderton (Tom Cruise) is on the run. Based on a Philip K. Dick (BLADE RUNNER) short story, the movie concerns the precrime unit of the D.C. police department in the year 2054. John is being setup, but by whom and why?

John, whose job is to arrest and permanently incarcerate would-be murderers, doesn't plan on killing anyone, but the image of a future crime of his comes up on his video screen. Although he can't arrest himself, his fellow cops can, or at least can try hard to.

Using just enough never seen before special effects to dazzle you, but never so many as to get in the way of the storytelling, Spielberg masterfully serves up a cinematic treat that will have you mesmerized from start to finish. Working as both a thriller and a mystery, the movie has all eyes glued to the screen and all brains in overdrive.

There are two Oscar worthy performances in the picture. In addition to Cruise's headline work, Academy Award nominee Samantha Morton (SWEET AND LOWDOWN) plays Agatha, the creepiest of the three "precogs" who float around and prophesy. Living in a pool of water, three near-zombie people transmit nightmarish visions of the future to wall size video screens. The precrime police, using special gloves, navigate their way through a flashing maze of data. When the three precogs agree that a murder is about to be committed, they cause a losing lottery ball to pop out over in the cops' office. This puts the police in gear to arrest the criminal before he kills anyone. The country is about to vote on whether to take this police state system nationwide. Since there hasn't been a murder in six years in D.C., one can guess the outcome without the help of any precogs.

"Ever get any false positives?" Danny Witwer (Colin Farrell) wants to know. He's a non-believer who has been sent from the Attorney General's office to investigate whether this precrime system really works without errors, as Director Burgess (Max von Sydow) and company claim. Danny clearly wants to shut the whole operation down and is trying hard to get something he can use against John, its star detective.

Filled with religious metaphors, the story has the room holding the precogs named the temple. A holiest of holies, the room is a sanctuary into which the precrime cops dare not venture. What goes for a jail is watched over by Gideon (Tim Blake Nelson), a pipe organ playing jailer. "Careful chief," Gideon admonishes John when he comes looking for clues about what is going on. "If you dig up the past, all you get is dirty."

The futuristic parts of the picture are only secondary, but they are quite fascinating. Newspapers change in real-time. Holographic ads know the identities of each passerby and interact on a personal level that spammers and telemarketers could only dream of. Privacy advocates will find the movie one long cautionary tale, as the government knows just about every move you make. And speaking of moves, Spielberg will have you jumping in your seats at least a half dozen times. Agatha, in particular, is the scariest character this side of a horror movie.

Minority Report is a nearly flawless film, but it does avoid the most obvious question. It leads us down a path in which we are convinced that the precrime unit is one of humanity's worst ideas ever because of its potential for mistakes. It doesn't seem to believe that we'll ever think about a simple question of statistics. If you were absolutely certain that you could save the lives of thousands of murder victims, would you be willing to let a few innocents be imprisoned forever by mistake? This carefully avoided question isn't so simple. Nevertheless, the film itself is quite simply great.

MINORITY REPORT runs 2:25. It is rated PG-13 for "violence, brief language, some sexuality and drug content" and would be acceptable for kids around 12 and up.

My son Jeffrey, age 13, gave it a full ****. His long list of things he loved about it included the acting, the plot idea, the pacing and the little bits of humor. He mentioned that he liked the way that the special effects were so impressive yet never overdone.


Movie Fan

, South Africa. 7 May 2016
Very poor quality.
Almost seems like a home made copy...
Region details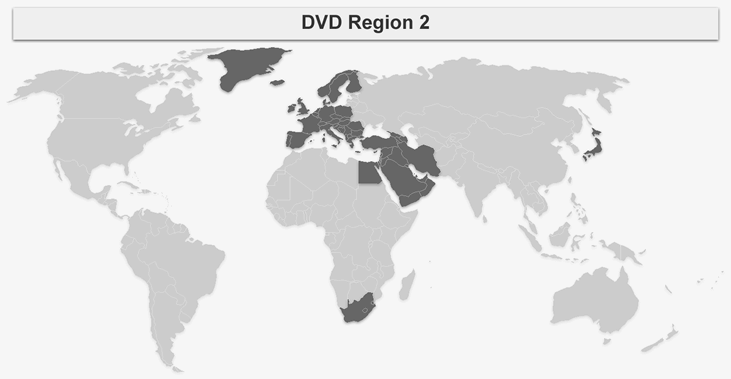 Region 2 - Europe (except Russia, Ukraine, and Belarus), Middle East, Egypt, Japan, South Africa, Swaziland, Lesotho, Greenland, French Overseas departments and territories.